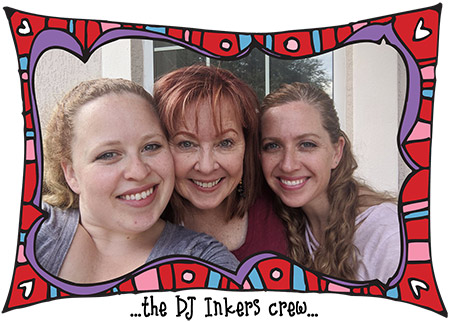 A little DJ Inker's History...
Don't the best ideas always come from necessity?!! DJ Inkers certainly did. In December of 1990... working as an artist for several companies in the craft and stamp market, I was young, a little naive and full of ideas of how to conquer the world one smile at a time, and certainly ready to do my 'own thing' in the hobby and craft market. The first Cut & Copy books (created for a Christmas neighborhood boutique) were an immediate success as the only available 'designer' clip art books with a distinct and whimsical style. It all started from that first little Christmas Cut & Copy book.

Working out of my garage, DJ Inkers grew by leaps and bounds! Employing all 5 of my children and anyone available in my neighborhood to make rubber stamps and bind Cut & Copy Books kept things going. We didn't get much sleep but we had such a good time. As DJ Inkers continued to grow in the craft market, 1994 brought the biggest advancement of all. DJ Inkers Cut & Copy for Computer clip art was created. I couldn't have been more thrilled with the excitement these packages brought to friends, teachers, homemakers and the 'brand new' scrapbook market. Using the computer as a craft tool and a way to create something easy and cute (without a run to the copy store in the middle of the night) was SO remarkable. Cut & Copy for Computer was launched in stores nationwide and has a huge success for DJ Inkers.

From there, our story has evolved many times. We've created and licensed all sorts of products over the last 25 years... to our current line of designer clip art, fabulous fonts and fun printables for kids and teaching. The journey has been amazing, and we couldn't be more grateful to create smiles for a living.

Sign up for one (or all) of our email newsletters to get coupons (including 20% off your first order), free clip art & fonts... and, of course, stay updated on the latest sales and products. We'd love for your to follow us on the DJ blog, Facebook, Pintrest, Instagram, or Twitter. We just hope you'll stay in touch with us and let us know how we can help create your next smile.
Happy Days and many Smiles to YOU!