So many ways to create a smile with DJ Inker's clip art and fonts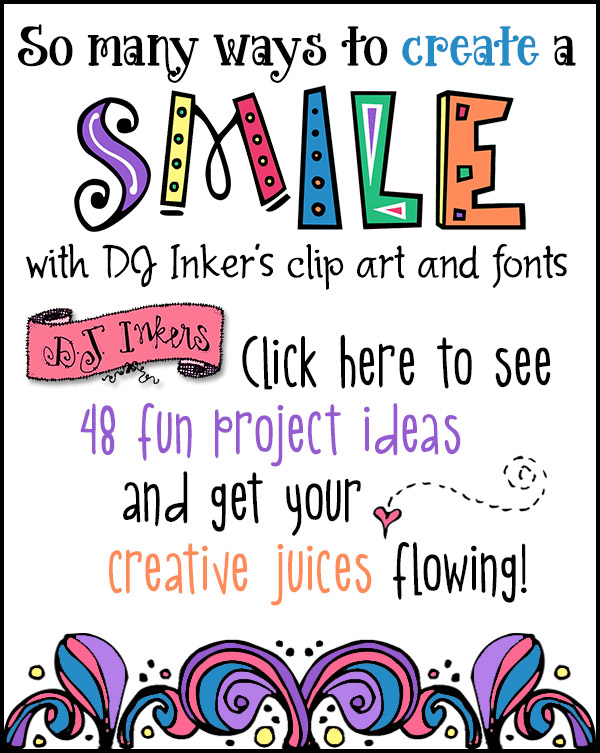 Love to create a smile? You've come to the right place. DJ Inker's fabulous fonts and cute clip art have been going strong for 30 years, thanks to creative customers and talented folks like YOU, who take the time to add a little love to your projects. We've seen
thousands
of project ideas and different ways to use our art over the years, but we've selected
48 of our favorites
to get your creative juices flowing. One thing's for sure, making your projects with DJ Inkers means you're adding a smiles... and the world can
always
use more. :)
There are so many
fun
ways to create a smile with DJ Inker's clip art and fonts!
To keep things simple, w
e narrowed it down to
8 project categories
, so it's easy to scroll straight to the kinds of creating that interest you most...
1. Posters, fliers and signs
Need to capture your reader's attention or promote an event? What better way than to add style and flair with a few eye-catching images? Make your life even easier and choose a
clip art border
! We've got them for
soooo
many different occasions and themes. Use a
fabulous DJ font
for your text and your poster is cute, coordinated
and
more professional looking. Here are a few ideas to get you started...
2. Special occasions and party time
Whether you're hosting a birthday party, a baby shower or a holiday event, there's always a need for invitations, signage, party favors and decorations! That's where DJ Inkers comes in.
First, shop by subject on our website to find some fun and festive images for your theme. Then create each project with that art and personalize with a coordinating DJ font. Your party is sure to look cute, cohesive and totally unique. Plus, it's really rewarding to see it all come together!
No time to create all of that yourself? No problem. We've got lots of wonderful
printables for a variety of occasions & themes!
These projects are ready to go. Just personalize, print and enjoy. :)
3. Worksheets, games and classroom smiles
Our warm and whimsical art style is perfect for kids. Adding a little DJ clip art makes schoolwork and classrooms seem more friendly and inviting... and the handouts grab your attention. Choose from
thousands of darling images
designed to enhance your educational materials for school, church, youth groups, special interest clubs, home school and more. We've been so impressed with the ideas we've seen over the years!
We've got a great selection of
ready-made
worksheets and school printables too! Many of them were created by teachers and are tried & true in actual classrooms. Our
DJ file folder games
might be the fan favorites.
Click here to see all of our fabulous educational printables now...
4. Homemade decorations, gift ideas and greeting cards
No matter the occasion, the best gifts and cards to give
and
receive are those that come from the heart. Mom always said she liked things
we made for her
the very most. Try making your own cards with a colorful digital background paper for a base, then add appropriate clip art and customize with one of our award-winning fonts or an alphabet. These days, you can easily upload your project to a printer and inexpensively make your own canvas prints, bulletin boards, t-shirts, calendars, coffee mugs, throw blankets... you name it! It's so much fun too. :)
5. Calendars, planning and organization
Having tools and reminders to help everyone keep the schedules and the rules straight is super important, especially if you're doing it for an entire group, classroom or office.
Take a look at our ready-made calendars
. There's list calendars, photo calendars, event stickers, weather charts, classroom schedule cards and
more
to keep everyone posted (with a smile).
6. Scrapbooks, journals and memory books
DJ clip art and fonts can
definitely
help you customize your look, and page layouts. Plus, it adds a lot of character and a truly unique touch to preserving your memories. We have a
broad range of styles and themes...
so you can use DJ Inkers to help you create an adorable baby book, a fun custom yearbook for school, or even an elegant wedding album full of swirls and sparkles.
7. Awards and certificates
Giving special recognition should look and feel
special
. Start with a simple border, add a bold & decorative heading and finish with a fun image or two to wrap things up nicely. It's not always easy finding a certificate or award badge that suits your event or the recipient. Making your own lets you
completely
customize and have fun with it... so it will be exciting to give too! Feel free to
email us
any time you need something specific. We're happy to help.
Click here to shop special occasion smiles...
8. Project covers, notes and newsletters
Using a
ready-made border
makes this one quick and easy. You can make your projects and reports really stand-out with a snazzy cover. Adding a smile will certainly get your reader's attention on family, office, school or club newsletters too. We suggest
DJ Border covers
.
Ooooh... we really could go on and on, but we want to hear (and see) YOUR ideas! Comment below,
email us
or join our facebook group
DJ Inker's Clip Art Creators
. We can't wait to see what YOU create.
Ready to start creating smiles of your own? Join one of DJ Inker's email lists and we'll send YOU a
20% coupon for your next order
,plus a
FREE set of clip art 'Smiles to YOU'
and a
FREE DJ font!
Stay updated on our newest products, sales, and freebies too.
If you're creating smiles on a GRAND scale and you'd like to
sell
your adorable and fabulous creations... be sure to check-out DJ's
Lifetime Commercial License!
You even
get a discount on every purchase
with us once you have an active license. Woohoo!
Smiles to YOU from all of us at DJ Inkers :)
Edited: 06/15/21 06:21 PM